Original Abstract Art
Original Pen and Ink Abstract Art
Abstract Art sells only original pen and ink drawings, no prints. Each drawing is unique. Though outlined drawings can be replicated, the designs that are contained within cannot. So, the piece of artwork you own, will therefore be very unique.
You can either buy from the galleries or commission a piece of artwork. There is no extra charge for a commission. Clarke Abstract Art prices will rely solely on the complexity, time and size of the piece, plus exchange rates, postage and packing, of course. If you would like to discuss your ideas for something exclusive to yourself, please contact artist Tina Clarke.
Original Abstract Art
Owning a Original piece of art is something to treasure, there is nothing quite like it, and does not compare to owning a print, even a limited edition. My original pen and ink abstract art belongs to a genre of art that has quite a few names, Abstract of course, Brut Art or Raw Art. Even Doodle Art. As a self representing artist I invite you to explore the galleries and enjoy the experience.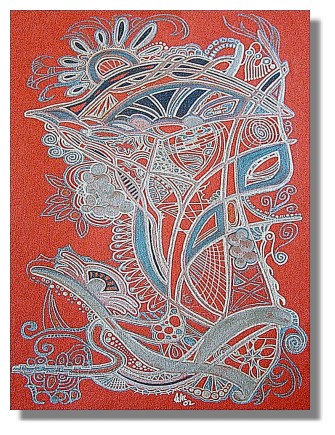 Featured Picture
"BlueOnRed" from the Red Abstract Art Gallery by Tina Clarke
If you see that a piece of artwork is sold, and you really want it, email me to see if I can produce something similar for you.
The Abstract Art Gallery epitomises the varied styles of Tina Clarke's Artwork.
These are pictures in the abstract literally. I look at someone and see them in the abstract. I've only done family members so far and they are quite personal. Are they surrealist Art?
Abstract Flowers are very easy to draw, they lend themselves very easily to being drawn as they have such interesting shapes.
I like drawing birds because I like to simulate their feathers with the inks and give them neat and precise renderings. This gallery shows off what I wanted to achieve in just that precise way.
Black and White Drawings are the first pictures I made with gel ink, when gel ink first came out, on Bristol white paper. Bristol paper is the smoothest paper you can buy for inks. Black on white drawings look very dramatic.
Just in time for Christmas, these jolly drawings are just what Father Christmas ordered to cheer up the house. Be sure to look at the religious art if your interested in Christmas Art.
What does your idea of fantasy Art look like? Drop me a line and let me know your ideas.
Flowers are for giving. Just the ticket when you want to say sorry. Or cheer yourself up. Why not give some ever lasting flowers for the wall?
Fancy giving a unique gift for that special occasion? The solution is just a matter of choice, browse the gallery and pick your unique gift out for your loved one.
Original Art in pen and ink and other mediums reside in this gallery. Your spoilt for choice amongst these six offerings of original art.
I love drawing this type of art as it lends itself quite well to my style of drawing, it's endlessly fascinating.
All pictures in this gallery are done on red paper, hence the name.
These pictures also tie in with Christmas Art so don't forget to give that gallery a look. This is a genre I like to draw and I plan to do a series of Stations of the Cross at some point.